At Quality Pump and Control we offer complete 24 hour service for all makes and models of pumps and controls. We have an extensive inventory of pumps and parts and a full line of rental pumps and panels for emegency service. Please feel free to look around and give a call with any questions or concerns you may have. Our phone number is listed in our Contact Us page along with driving directions and our email. In the event of an emergency, please click here so that one of our on-call technicians will be in contact with you shortly to resolve your issue.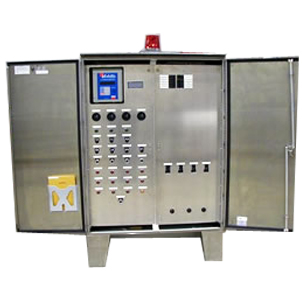 Complete Control Panels
USEMCO U-PACK™ control panels are designed, assembled & tested in their factory to provide years of dependable, trouble-free operation for your water or wastewater pumping stations. U-PACK™ panels are provided with high quality components with options available that meet job specific needs.

U-PACK™ panels are built with various control schemes including floats, transducers (submersible or ultrasonic) or bubbler inputs. USEMCO's® application experience creates user-friendly systems with the appropriate indicators for ease in operators control and maintenance.
U-PACK™ panels are ultimately designed by you, the customer with our assistance. Your provide the needs and USEMCO provides the solutions, and backs them up with guaranteed performance and support.